Headaches in Derry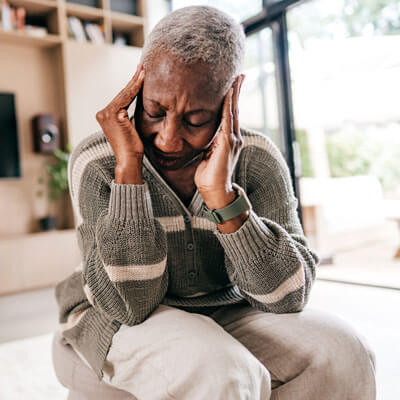 Living with chronic headaches can feel like an endless battle, affecting your daily life and even your mental health. At Triskelia Wellness, we understand the burden of headaches, and our experienced chiropractor provides care options to help you find relief and regain control of your life.
We create personalized plans to address each patient's unique needs. Our approach to managing headaches begins with a thorough evaluation to determine the nature of your headaches and identify any underlying causes.
Whether tension headaches, the most common type, migraines, or related to lifestyle factors like diet, understanding the specifics allows us to develop a targeted plan for optimal results.
Results That Last
Our doctor uses various innovative techniques to address headaches effectively. In addition to adjustments tailored to the cervical spine, we may incorporate additional therapies such as massage and dry needling. These techniques aim to reduce muscle tension, alleviate nerve compression, and promote optimal blood flow to relieve headache symptoms.
Lifestyle factors and stress often influence headaches. At our practice, we take a holistic approach to headache management. Our doctor provides guidance on stress reduction techniques, including diaphragmatic breathing and stress management strategies. We also discuss lifestyle modifications such as dietary adjustments and exercise, which can be crucial in triggering or alleviating headaches. We aim to provide comprehensive relief and enhance your overall well-being by addressing these factors.
Inspiring Success Stories
Our success stories speak volumes about the effectiveness of chiropractic care for headaches. Consider the case of an architect with a high-stress job who battled chronic migraines for years. Despite consulting specialists and trying various medications, relief remained elusive.
However, after undergoing chiropractic adjustments, needling, and other therapies, the patient experienced a profound transformation. Their quality of life improved significantly, offering renewed hope and vitality.
Don't Let Headaches Shut You Down
If you are ready to overcome the burden of headaches and regain control of your life, contact Triskelia Wellness today. Our experienced team is dedicated to providing informative, professional, and empathetic care for those seeking headache relief. Schedule an evaluation and let us address your unique needs and help you find relief.

Headaches Derry, Windham NH | (603) 824-6121