Cold Laser Therapy in Derry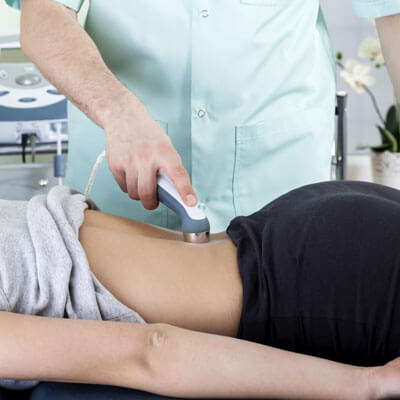 Cold laser is a therapy that has become very popular due to its ability to help with acute or chronic inflammatory conditions. It uses red and near-infrared light, which penetrates the tissue at the cellular level, where it stimulates energy production. This in turn activates the body's healing response and translates into wound healing, decreased inflammation, faster recovery and less pain for many patients.
Our Approach
At Triskelia Wellness, we use a Class 3B laser that is perfect for small, focused areas of pain or inflammation. You'll wear protective eyeglasses for the 5-8 minute session and the laser will be guided over the injured area. This type of laser is safe and non-invasive. You will feel warmth in the area worked on; this is caused by increased blood flow to the area—this is what brings oxygen and healing nutrients to the injured tissues.
NEW Patients »

Some common conditions we use the laser for include:
Cervical radiculopathy
Plantar fasciitis
We also offer it for any areas of inflammation that have not responded to other types of care.
Custom Care Plans
Based on a very thorough examination, Dr. Buik will design a care plan specifically for you. If they think laser therapy may benefit you, they may offer a "sample" of the service. If the sample session produces some relief or seems to help, they will incorporate it into your overall plan. We do not waste your time or money with therapies that aren't suited to your needs and goals.
How Long Until I Feel Relief?
Many patients experience some improvement after just one session. However, a series of sessions is often best to achieve full healing. Laser therapy does not work for every person or condition.
If you haven't experienced improvement within 3-5 sessions, it's probably not going to help you, and we'll recommend a different approach.
Schedule Today
Contact us today to book your first appointment. We're looking forward to meeting you.
CONTACT US »

Cold Laser Therapy Derry, Windham NH | (603) 824-6121