Custom Orthotics in Derry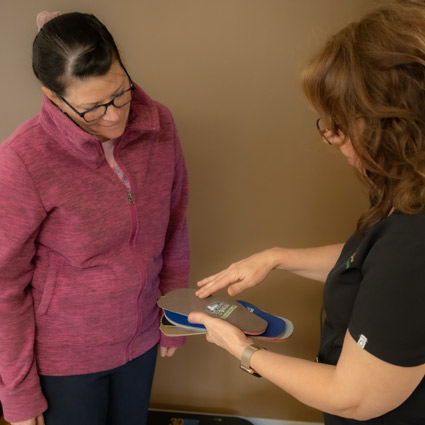 We strive to help our Triskelia Wellness patients achieve their highest possible health and wellness potential, through various holistic services. Foot Levelers custom orthotics are a great way to help create a stable foundation for your spine, and can help alleviate pain and restore optimal posture.
They can be beneficial for people with foot, knee or hip pain, people who stand for prolonged periods, active people and those with flat feet.
What Are Orthotics?
Foot Levelers makes custom-fabricated soft inserts that go into your shoes, correcting any imbalance or instability in the feet. This can help restore alignment, reduce stress on joints of the spine and extremities, and improve blood circulation, all of which supports better health and function.
NEW Patients »

These inserts can be made to fit any type of shoe, with the exception of sling-back high heels. They also offer custom orthotic shoes in various styles, from flip-flops to slippers.
What to Expect
We schedule a separate appointment for this service, which takes about 15 minutes. You'll need to take off your shoes and socks, so we suggest wearing something you can get out of easily. You'll stand on a digital scanner, which will create a 3D rendering of your foot. Once the scans of both feet are done, we will go over the findings with you and explain how Foot Levelers can help.
We will lay out the various options and pricing, and, if you're ready to proceed, we will send the digital scans to the lab. Your custom orthotics will be ready in about a week.
When you come in for your inserts, we'll give you instructions on how to use them—typically, you'll start wearing them for 1-3 hours a day and increase the time as your body adjusts. We'll also offer some home care instructions for foot soaks and stretches to alleviate any initial discomfort. Most people adapt quickly!
Patients who choose orthotics to help with pain or discomfort typically notice improvement within a week or two.
Schedule Today
Take good care of your feet, and they'll take good care of you. Contact us today to get started.
CONTACT US »

Custom Orthotics Derry, Windham NH | (603) 824-6121