Pregnancy Chiropractic in Derry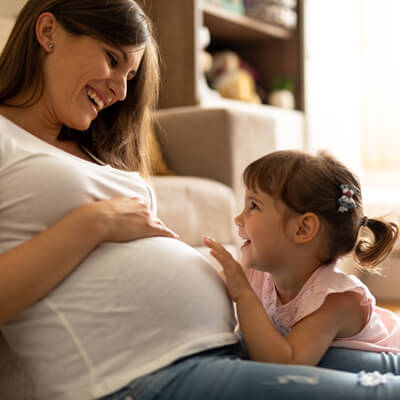 Regular chiropractic care throughout your pregnancy may help you feel more comfortable and mobile throughout—and studies have shown it can help reduce labor times and make delivery easier for you and your baby.
At Triskelia Wellness, we offer safe, gentle care for all stages of pregnancy. Many of our patients' OBs refer them for chiropractic care to help their bodies adapt to the many changes that take place in such a short amount of time.
Benefits of Chiropractic
As your weight increases and your center of gravity shifts, a lot of stress is placed on the low back and pelvis, and the muscles, tendons and ligaments that support these areas. Chiropractic adjustments restore optimal alignment and mobility to the joints, reducing tension on the associated soft tissues. The result can be greater ease of movement, decreased discomfort, and even better sleep.
NEW Patients »

In addition, when Mom is less stressed, more comfortable and able to rest, Baby is also less stressed, more comfortable and able to rest. And when labor and delivery are optimal, that makes getting started in life much easier for your new little one.
Our Approach
Dr. Buik uses low-force Activator Methods®, which is a gentle instrument-assisted adjusting technique. Some local chiropractors refer their pregnant patients to us specifically because of our expertise with Activator Methods. In addition, we have a specialized table that can take you from standing to lying down, with a cutout for your belly. Many of our moms-to-be love being able to lie safely facedown for a few minutes!
Your care is customized to your needs, so the frequency of visits will vary from person to person. We'll also offer you home care recommendations and resources specific to your situation.
Both of our massage therapists also offer prenatal massage, to help you feel your best during this exciting time.

Get Started Today
The sooner you begin care, the more time we have to help keep you feeling great before your baby arrives. Contact us today to schedule.
CONTACT US »

Pregnancy Chiropractic Derry, Windham NH | (603) 824-6121