Diversified Technique in Derry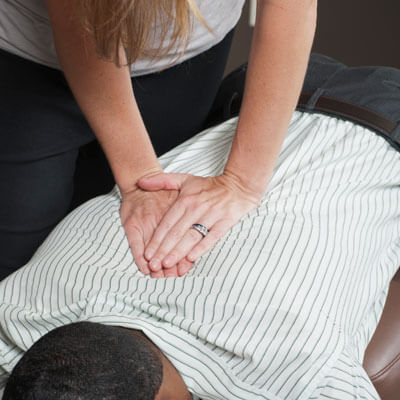 At Triskelia Wellness, one of the many adjustment styles we use is called Diversified. Among the most popular chiropractic techniques, this hands-on approach allows us to adjust your spinal bones into the proper position manually.
Diversified has proven successful in helping patients of all ages and stages get back to living the life they love naturally. The technique focuses on addressing areas of restriction and promoting overall movement and function. Our precise and gentle approach aims to deliver high-quality adjustments that significantly relieve your overall well-being.
A Holistic Approach to Healing
At Triskelia Wellness, we understand that each patient is unique, and their headaches may have different underlying causes. Our doctor takes a holistic approach, considering various factors such as lifestyle, stress levels, and posture. By incorporating lifestyle modifications, stress management techniques, and personalized plans, we address the root causes of your discomfort for long-term relief.
Diversified stands out as an effective method for addressing areas of restriction and improving overall mobility. Unlike other techniques focusing on individual adjustments, this method allows our chiropractor to target the affected area, creating a more comprehensive and impactful result.
With precise, quick, and gentle adjustments, we produce a better response and alleviate your discomfort more effectively than other methods. The energy delivered during the thrust may produce a slight "popping" sound from the shifting of gas and fluids in the joint. There's no need to worry or be frightened about this—in fact, most patients find adjustments relaxing and relieving!
Targeting Your Discomfort
For many patients, headaches and discomfort may stem from specific areas, such as the mid-back or between the shoulder blades. Our doctor uses Diversified to target these regions, freeing up restricted movement and restoring proper function. We can provide significant relief and help you experience improved mobility and comfort by addressing the underlying issues in these areas.
While every patient is unique, most experience improvements within just three visits. Beyond pain reduction, we aim to enhance your daily life, including better sleep and improved functionality.
ATV Survival Story
A freshman in college rode his ATV off a trail, wrapped around a tree, and then had the ATV fall on him. Since his head hit the tree, he was pretty concussed and had a constant headache. Two weeks later, he came into our office. The doctor adjusted him, and his headache completely disappeared.
Experience Relief Today
Discover all the Diversified Technique can do. There's a reason it's the most widely used worldwide. Get the relief you need. Contact Triskelia Wellness today.

Diversified Technique Derry, Windham NH | (603) 824-6121