Meet Dr. Dawn Buik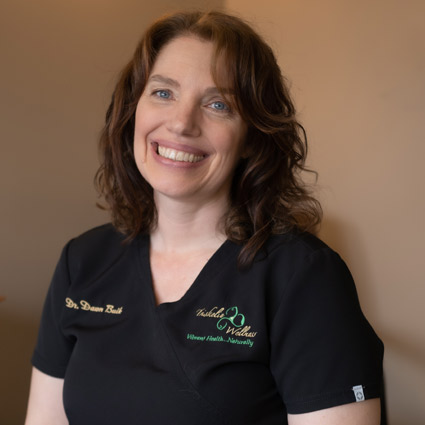 Finding Her Path
Dr. Buik always wanted to be some kind of healer, but she didn't know what kind. It was her dog Bear who led her to chiropractic.
When Bear began having difficulty walking and the vet couldn't help him, Dr. Buik took him to an animal chiropractor as a last resort. Within three visits, Bear was back to running and jumping.
Since Bear got such great results, Dr. Buik decided to try
chiropractic care
for her chronic headaches. When she also experienced life-changing improvement, she knew chiropractic was the career for her.
Natural Care in a Natural Setting
Dr. Buik fell in love with New Hampshire when she visited her parents in Bedford, and moved here to be closer to them. Our practice is located in a serene wooded area on a pond. Dr. Buik wanted our space to offer patients the opportunity to relax and revitalize themselves before they return to the world. She opened our first location (upstairs from our current location) in 2013, then moved downstairs to expand in 2017. Finally, in 2023, she remodeled to create more of a spa-like atmosphere with additional space for massage.
Away From the Office
When she's not at work, Dr. Buik enjoys spending time with her husband of over 30 years and their furry babies, gardening, tending her chickens, being in nature and reading.
She's also passionate about cooking.
Book Today
Contact us today to schedule your appointment.
CONTACT US »

Dr. Dawn Buik | (603) 824-6121