Meet Dr. Emily Coleman
I'm passionate about empowering patients to tap into their innate intelligence and achieve a higher state of well-being.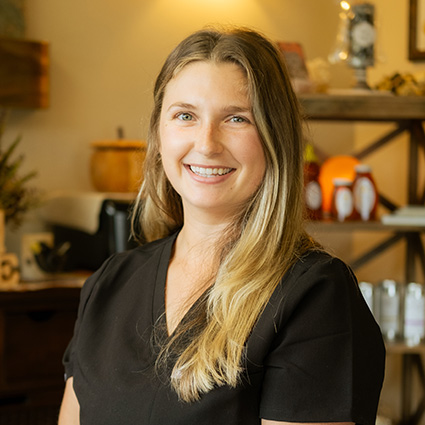 Developing an Early Interest in Chiropractic
Dr. Coleman's passion for chiropractic care was ingrained from an early age, with a family background rooted in this natural healthcare field. Since elementary school, she received chiropractic care from her aunt, who explained to Dr. Coleman the interconnectedness of the body.
"As she adjusted me, I remember thinking, 'I want to know what she knows.' So from early middle school, I knew that I wanted to be a chiropractor."
Education and Expertise
Dr. Coleman began her academic career at Quinnipiac University before transferring to Tunxis Community College and ultimately completing her undergraduate prerequisites at Central Connecticut State University. She then pursued her chiropractic degree at Life University in Marietta, Georgia. With almost two years of experience in practice, Dr. Coleman has honed her skills and developed a deep understanding of the body's innate healing abilities.
Taking a Comprehensive Approach to Care
Before joining the Triskelia Wellness team, Dr. Coleman worked at her aunt's practice in Arundel, Maine, caring for patients of all ages, from babies just a few weeks old to individuals in their late 90s. She is also certified in Bio-Geometric Integration (BGI) 1, a tonal chiropractic technique that she integrates into her practice.
Continued Growth and Specialization
As a lifelong learner, Dr. Coleman always seeks opportunities to expand her knowledge and enhance her skills. She plans to take classes to further her knowledge in the Activator Technique, which she plans to integrate into her practice. Driven by her passion for holistic wellness, she offers patients little tidbits during each adjustment about how to further their wellness.
Enjoying an Active Life
Outside the practice, Dr. Coleman enjoys an active lifestyle, particularly hiking. She and her boyfriend aim to conquer the 48 4,000-footers in New Hampshire! She is also exploring new hobbies, such as rollerblading, and spends her free time reading, playing with her cat, and exploring the many breweries and scenic destinations in New England.
Maximize Your Health Naturally
Ready to optimize your well-being? Take that first step by scheduling an appointment with Dr. Coleman!

Dr. Emily Coleman | (603) 824-6121