Sciatica in Derry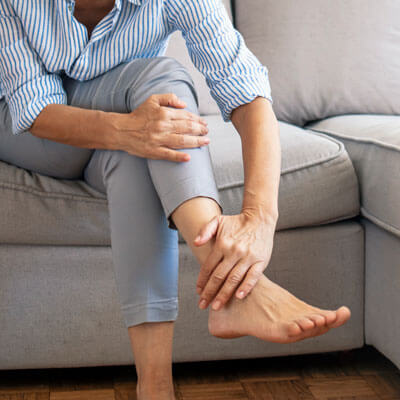 Are you struggling with the debilitating pain of sciatica? At Triskelia Wellness, we understand how this condition could limit your daily activities and diminish your quality of life. Our experienced chiropractor offers skilled care options for patients. With thorough evaluations and a focus on patient outcomes, we help you find relief and regain your freedom.
Understanding Your Discomfort
Sciatica refers to the excruciating pain that starts in the lower back and extends down one or both legs. It often worsens with prolonged periods of sitting or standing. Other symptoms include:
Hip pain
A tingling or burning sensation down the leg
Weakness, numbness, or difficulty moving the leg or foot
Persistent discomfort on one side of the buttocks
Shooting pain that makes standing up uncomfortable
This condition may affect various groups, including pregnant women, individuals with diabetes, and those dealing with obesity. It can be caused by the compression or irritation of the sciatic nerve, which originates from the lower back and runs down the legs.
Our approach begins with a comprehensive consultation and examination. We assess your condition to identify the underlying causes of your sciatica. This includes evaluating the health of your back and assessing any inflammation or tension in the piriformis muscle, a common contributor to the condition.
Targeted and Tailored Care
We believe in tailored solutions to meet your unique needs. Our doctor creates personalized care plans that combine chiropractic adjustments with specific exercises and stretches. This comprehensive approach alleviates discomfort, reduces inflammation, and enhances spinal health. Additionally, we may incorporate techniques like massage therapy and dry needling to provide complete relief and expedite your healing process.
We empower our patients to participate in their recovery actively. In addition to in-office care, we offer homecare recommendations to complement your plan. This may include specific stretches and exercises for your daily routine and using Epsom salt baths for relaxation and pain relief.
Stronger Than the Pain
Our dedication to patient well-being has resulted in numerous success stories. One example is a new mother who experienced severe sciatica following the birth of her second child. She quickly resolved her condition and regained full mobility through a program of chiropractic adjustments, massage therapy, and targeted stretches. Many of our patients report significant improvement within just a few visits, with ongoing care leading to long-lasting relief.
Schedule a Visit
If you're weary of enduring constant discomfort and limitations due to sciatica, it's time to seek professional help. At Triskelia Wellness, our compassionate and knowledgeable team is dedicated to providing warm and effective care for sciatica patients. Take the first step toward lasting relief; call us today.

Sciatica Derry, Windham NH | (603) 824-6121